Hydraulic Packing
Along with our extensive capabilities in the manufacture and fabrication of custom gaskets and custom seals, Hennig Gasket carries a complete line of hydraulic packing in various styles, shapes and sizes. Featuring the CHEVRON®, GARTHANE®, and SLUDGE-PAK® lines from Garlock Sealing Technologies, Hennig Gasket has all the hydraulic packing and other hydraulic packing components for your most demanding applications and requirements. Hennig Gasket stocks a full line of hydraulic packing and hydraulic packing components, including:
Flange Packings
Back-Up Rings
U-Cups
Vee-Flex
Metric Sizes and Standard Sizes
Piston Cups
Urethane Seals
O-Ring Cord
CHEVRON® V-Ring Sets
Spring Loaded Seals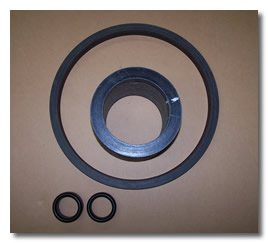 Hydraulic packing and packing components are found in many applications, such as:
Hydraulic Cylinders
Valves, Valve Stem Packing
Lifts
Extrusion Presses
Accumulators
Bailing Presses
Steam Hammers
Fluid Transfer Pumps
Rubber Molding Presses
Filters
Centrifugal Pumps
Pneumatic Cylinders
Agitators
Water Flood Pumps
Homogenizers
Mixers
Injection Molding Presses
Intensifiers
Jacks
Forging Presses
The above table is just a sampling of the applications for hydraulic packing. Call the hydraulic packing specialists here at Hennig Gasket with any questions about your particular hydraulic packing application. In addition, Hennig Gasket has over 500 stock sizes of hydraulic "V" packing in stock and available for same day shipping.
Over the past eighty-plus years, Hennig Gasket has collaborated with many industries, assisting with their specific and unique hydraulic packing application requirements. Some of the industries we've worked with are:
Plastics
Chemical
Water and Wastewater Treatment
Oil and Gas; Petrochemical
Power Generation
Food Processing
Emission Control
Sewage Treatment
Paper and Pulp
Factory Production Lines
The advantages and benefits of using the proper hydraulic packing and packing components are many:
Reduced downtime of equipment
Minimal installation costs
Elimination of costly blowouts or seal failures
Inventory costs are reduced
Extended hydraulic packing and seal life reduces operating costs and maintenance
Get in touch by phone or email with the specialists at Hennig Gasket today for all your hydraulic packing applications! Or, request a quote today!