Boiler Gaskets
For over 100 years, Hennig Gasket has been providing solutions for virtually every industry requiring gaskets and seals. As part of our extensive in-house inventory, Hennig Gasket is an authorized distributor and strategic partner for many of the top names in boiler gaskets and seals, including: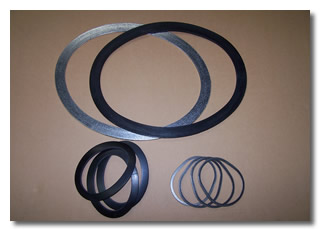 Topog-E ® Gasket Company – Series 180 molded rubber gaskets and Series 2000 exfoliated graphite foil gaskets.
Flexitallic ® - extensive line of spiral wound gaskets
Custom made EPDM Hand Hole—manhole low pressure steam
Leader Gasket – spiral wound gaskets, heat exchanger gaskets, metal gaskets
In addition, Hennig Gasket offers wire inserted fiberglass boiler gaskets and seals that are coated with a heat resistant rubber, and are rated for temperatures up to 380° Fahrenheit and pressures up to 180 psi (pounds per square inch).
Benefits of using molded Topog-E ® EPDM molded rubber Series 180 gaskets are easy and quick installation, conforming to the metal surfaces with no adhesive required; when servicing, can be easily removed – cleanly, with no residue; the gaskets can lead to longer boiler life, due to no corrosion or seepage from the seal; excellent resistance to boiler cleaner chemicals; available in a wide range of sizes; and are molded for optimum performance. The Topog-E ® Series 180 gaskets are rated for up to 380° Fahrenheit and pressures up to 180 psi, and are available in oval, round, standard, diamond and pear shapes. Custom sizes and shapes are available on request. Some applications include:
Hot Water Heaters
Steam Pressure Vessels
Deaerators
Demineralizers
Treatment Vessels
Steam Humidifiers
Dryer Cans in Paper Mills
Water Purifiers
Water Softeners
Filtering Systems
Other Types of Boiler Gaskets
The Topog-E ® Series 2000 gaskets can be used in steam pressure vessels with extreme temperatures up to 1200° Fahrenheit (650° Centigrade).
The Flexitallic ® line of spiral wound gaskets is ideal for handling temperature and pressure fluctuations, bolt stress relaxation and creep, as well as toxic and corrosive chemicals and media. Some types of Flexitallic ® spiral wound gaskets are reinforced with several layers of metal to provide better compression characteristics and greater stability. Some Flexitallic ® spiral wound gaskets feature solid inner metal rings, and external rings; other Flexitallic ® spiral wound gaskets are designed for heat exchanger applications, ring joint flanges, carrier ring configurations, space restrictions, boiler handhole and tube cap assemblies, boiler manhole cover assemblies, and with graphite fillers or PTFE fillers for outstanding sealability. As noted above, we are a distributor of spiral wound gaskets; however, working with our strategic partner, we can provide custom spiral wound gaskets, depending on your specifications.
Hennig Gasket can also manufacture and fabricate custom gaskets and custom seals for your specific boiler gaskets and seals application. Our gasket fabrication services include hand cutting, die cutting and water jet cutting of the boiler gaskets and seals required.
Take advantage of the experienced staff at Hennig Gasket by
contacting us
today for all your boiler gaskets and seals specifications!