Gylon® Gaskets
Hennig Gasket & Seals is a leading manufacturer of high quality Gylon Gaskets for a wide range of industries across the country. No matter if your project calls for a single prototype or large production runs; no matter if the gylon gasket is simple or complex, we are committed to our promise of providing our customers with non-metallic material that has been accurately cut to the tightest tolerance and delivered with the quickest turnaround in the industry. That has been our promise for over 100 years.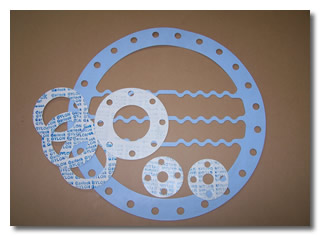 Hennig Gasket & Seals will custom manufacture your gylon gasket from provided blueprints or will reverse engineer a sample part for all critical dimensions. Our proven manufacturing techniques (which include waterjet cutting, flash cutting and die cutting) will deliver on-time, on-budget parts that are precision engineered to your exact specifications. Guaranteed.
Gylon® Gasket Benefits:
GYLON®, a product of Garlock Sealing Technologies, is a reinforced PTFE gasket material that exhibits significantly reduced creep relaxation, along with outstanding chemical resistance. It is not recommended to reuse a gasket.  A gasket's function is to conform to flange high and low spots when compressed, and its ability to reseal decreases after it is compressed.  Gaskets that contain rubber and which have experienced elevated temperatures will be even less likely to reseal.  The benefits of a Gylon® Gasket include:
GYLON® Gasket Material:
Hennig Gasket & Seals is an authorized distributor of Garlock Gylon gasketing material. Our inventory includes:
Hennig Gasket offers just in time (JIT) delivery of GYLON® gaskets, along with specials and prototypes being fabricated and shipped on the same day. Our in-stock inventory of GYLON® material includes 1/16" and 1/8" thick sheets, measuring 60" by 60". Request a quote today!